Bank Street College of Education Honors Dean Fern Khan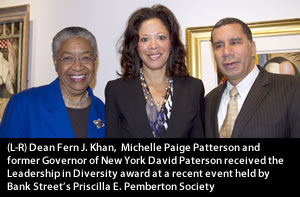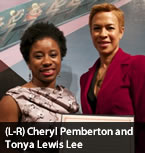 Dean Fern J. Khan, former Governor of New York David Paterson, filmmaker Spike Leeand his wife, Tonya Lewis Lee and Michelle Paige Patterson received the Leadership in Diversity award at a recent event held by Bank Street's Priscilla E. Pemberton Society. Khan, the dean of continuing education at Bank Street, was honored for leading many of the college's education programs and now serves as a special adviser to Elizabeth D. Dickey, president of Bank Street.
Paterson was honored for his reform initiatives while governor of New York and Lee for his contributions in film and for the new children's book he wrote with his wife, Tonya Lewis Lee.
The event helped raise funds for the Pemberton Society, which hopes to build new endowed scholarship funds for African-American students to attend Bank Street College and the Bank Street School for Children. Their mission is to increase support for students of color. Another current fundraising objective is the Lucia Henley Jack Student Support Fund, which provides a writing assistance program. The Pemberton Society has endowed diversity scholarships in the past.
The event also honored the legacy of Priscilla E. Pemberton, who was a Bank Street Graduate School alumna who helped students of all ages. Pemberton directed the Bank Street Early Childhood Center and served as special assistant to the president for minority enrollment. Pemberton also helped students at Borough of Manhattan Community College and served as president of the board of the Lexington Child Care Center. In 1997, she was among the first to receive the Distinguished Service Award, given by the Bank Street College Alumni Association. #