Five Memorable Days of Teamwork and a NCAA Title
By Mike Cohen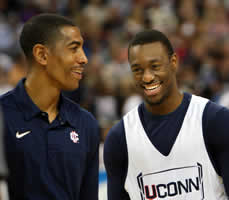 (L-R) Kevin Ollie-L & Kemba Walker
When I arrived last March at the Big East Men's Basketball Tournament at Madison Square Garden, I was all set to write a basic player profile for Education Update. As it turned out, I had no idea that I would be the one getting the "Education Update." In fact, I never even spoke to the player I set out to meet. Instead my own dual roles as a sports coach and reporter had an unexpected intersection — one that provided me with an extra bolt of energy and insight into the coaching world. Four months later my experience at the Big East Tournament is still on my mind and continues to be a valuable inspiration and resource to me in my daily work. Here are my reflections from my time with the University of Connecticut Huskies.
The team went on an impressive run, capturing the Big East Conference title — winning five games in five days — something that has never done before. They then went on to win the NCAA title against even longer odds.
It's still two hours before the start of the opening game of the 2011 Big East tournament at Madison Square Garden. Workers are testing the speaker system, ESPN technicians are connecting wires and Big East officials are organizing press seating at the world's most famous arena. There is the thump of a basketball hitting the floor that echoes throughout the Garden and the repeated sound of a ball passing through a net — and a coach giving instruction in a quiet and calm voice.
There is former University of Connecticut guard and current assistant coach Kevin Ollie prior to UConn's first game of the tournament against De Paul University. I didn't know much about Ollie or who he is, but I knew he was a former NBA player and that he served as the guard's coach for the Huskies. In the time that I observed him working with three freshman — Jeremy Lamb, Shabaaz Napier and Roscoe Smith and star junior Kemba Walker, I could tell it was as much about preparation as it was about strengthening relationships, building self–confidence and sending players out onto the court with a feeling of, "We can do it together."
Ollie was out shooting baskets before Walker came out onto the floor. Ollie immediately started working with the All-American Walker and didn't say much, other than "Shoot it, shoot it, shoot it, shoot it." I could quickly see that Walker had a good relationship with Ollie. Walker would shoot from close range, then move farther out with each shot. Then Napier came out and Ollie worked the same with him. Then the other guards came out and Ollie took them to about half court. He would pass the ball to them and they would cut; pass-cut, pass-cut, pass-cut. Ollie is high energy in getting each guard the ball as the players keep shooting and shooting. Ollie played in the NBA last year, and the work he did with his team looked as though he was preparing to play in the game himself.
I watched Ollie and the guards for about an hour prior to each of their games every day of the tournament. From my five days of watching Ollie and the Huskies, I saw a coach relating to his players — smiles and joking and the joy of basketball being shared by a coach and players. The perception is that UConn head Coach Jim Calhoun is a tough guy and is very hard on his players. That may be true, but I saw a bunch of "kids" who showed an outward display of love and camaraderie for each other.
As a coach for Throwback Sports where I work with children on coordination, core athletic skills and, most importantly, self-confidence, I could identify with Ollie's mission. He and his UConn guards are the model for any mentoring setting.
Ollie enjoys working with the guys and he really takes pride in watching them get better. He was enthusiastic and it was obvious that they were responding to him. The players wanted to please him and work hard for him and respected him.
"He is a great leader," says Walker, who went on to become the ninth overall player selected in the 2011 NBA draft for the Charlotte Bobcats. "He is always encouraging me to be tough on the court and play hard."
When Ollie spoke to the players, he spoke to them in an authoritative yet respectful manner. They didn't mess around with him but they also were having fun with him. He obviously related to them and they related to him, but he did it in such a way that commanded respect. You can see the players like him and want to do well for him.
Seeing Ollie interact with his team has reinforced to me what is important in education of children. From a skills standpoint, Ollie's basics of skill development, like pushing his players to keep their feet moving and focusing on the entire court.
"Footwork, hands ready, awareness," Ollie says. "Be ready to react. You are a live body. Pass and move. Look first before you move — that's part of being aware." I transferred Ollie's philosophy into my own when I teach children — footwork, hands ready and "BE aware" (b stands for brain, e for eye, and remember you can't spell beware without b or e).
The way Ollie works with the UConn players is exactly the way I approach kids who may have difficulty in focusing or who may face some physical challenges when learning a skill— with care and making them feel valued. I've learned in my role that you have to have energy. The more energy that you have, the more the kids feed off of it. If you're into it and you're energized and enjoy working with them, that helps them to enjoy playing ball. This is the basis for feeling connected.
It is clear to me that Ollie served as one of the key ingredients for UConn's success in basketball this year. He worked with Smith, Napier, Lamb — all freshmen. The Huskies' success can be attributed to the development of those freshmen. The tone that Ollie sets and the relationship that he has developed with those guys has made for a nurturing, positive learning atmosphere. Ollie built up their confidence and they came through by being major contributors on an NCAA championship team.
During the Big East tournament, UConn practiced and played like a team, so it was no coincidence to me that they continued to advance. That was my lasting impression of the Huskies before they headed west for the NCAA tournament. They are a real team. Ollie's work with the guards is a big reason why they were so cohesive in winning the NCAA title.
My goal with Throwback Sports is similar to what Ollie tries to accomplish with the UConn guards. Teaching is teaching and communicating is communicating, whether you are working with Walker on perfecting his form or a young child learning the basics of throwing. You are dealing with human beings and the goal is to improve skills, develop confidence and a team concept. That's what I learned from watching and observing Ollie and the Huskies. During some of the practices, Ollie came up and gave me a fist bump.
"Hey, you've got to come with us to the NCAA tournament," he said. "You're one of us." He made me feel the positive vibes about winning.
"It's about these guys — I love working them," Ollie said.
I can appreciate that. #
Mike Cohen is a staff writer and the head coach of Throwback Sports, an individualized and small-group sports program for children.