Solar Roof Pod Volunteers Learn Skills Not Taught in Class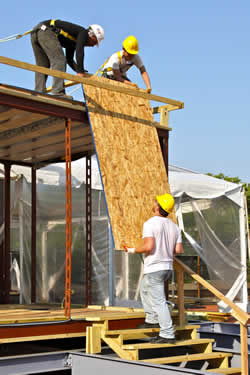 Roof left - Carlos Matute; roof right - Pablo Patino, and ground level - Astrit Maksuti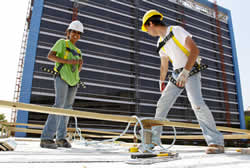 L-R: Farah Ahmad and John Vlahakis
Yinery Baez, a fourth-year architecture student in the Bernard and Anne Spitzer School of Architecture at The City College of New York, never gave much thought to screws. However, as project manager for the interior of the Solar Roof Pod, CCNY's entry in the U.S. Department of Energy's Solar Decathlon, specifying cabinet hardware is one of her many responsibilities.
"Many of the issues we face we never experienced in the classroom," the Glendale, Queens, resident said. "Little details like the type of screws used, for example. For the cabinets, we produced over 50 drawings so they would have a sure fit. In purchasing hardware for furniture, we had to make sure it would support the weight load."
More than 100 students from the Bernard and Anne Spitzer School of Architecture and Grove School of Engineering are members of Team New York, CCNY's entry. For almost 18 months, they have been designing and building the Solar Roof Pod, a solar-powered house specifically designed for installation atop urban commercial, institutional or residential buildings.
At least five days a week, they work on the project at a rooftop construction site on the plaza level of CCNY's Marshak Science Building, where is it visible to campus visitors. After it is finished, the two main modules and other components of the Solar Roof Pod will be will be transported to Washington, D.C., in September. There, Team New York will reassemble, operate and open it to visitors on the National Mall for judging in the ten categories of the Solar Decathlon.
By working on the project, students are learning many skills not taught in the classroom or studio beyond picking the right screws. They include attention to detail, problem solving, project management, team leadership, safety and communication. Students say they hope the skills they pick up on the project give them a competitive edge when they enter the workforce after graduation.
"This project is important to how we teach students," said associate professor of architecture Christian Volkmann, one of the team's faculty advisers. "They pick up skills related to detailing and construction technology as well as interdisciplinary work and coordination in a much better way."
"Student are not only gaining the experience of building a house, but have an opportunity to be part of something larger that could help the environment," said Dr. Jorge Gonzalez, a professor of mechanical engineering who is also a faculty adviser. "Most of the students working on the project are driven by these higher ideals."
"We're learning a lot more about building a house than you could from a text book," noted Farah Ahmad, a fourth-year architecture student from Staten Island who is one of the team leaders. "There are so many layers to construction and all systems have to work together. It requires a lot of coordination because one mistake could mess up everything."
"So many things come up during construction that have to be addressed ranging from logistics to communication," added Juan Luengas, a senior mechanical engineering major from Elmhurst, Queens. "It's a learning process. You've got to think differently."
In the classroom, students work on ideal cases that present theory. "You might be assigned four or five projects; all theoretical," said Francisco Arias, a senior environmental engineering major who is also from Elmhurst. "You'll present a solution to the problem, but you don't put into place. Working on the Solar Roof Pod, you get to see the results. You actually build a house."
Through their participation in the Solar Decathlon, students in the Spitzer School of Architecture and Grove School of Engineering have gained a new appreciation for the complexities of construction and the importance of teamwork and conflict resolution. By integrating their understanding of how systems and people work together to build a project into the design process, they have gained a competitive advantage for their careers that will deliver benefits to employers and clients alike.
"Design-build projects of any scale promote hands-on attitude, team work and inventive thinking," Professor Volkmann added. "Through this project, students will be so much better prepared for their first jobs in professional life." #