YOUNG WRITERS
Hurricanes
By Avi Ruthen, Carlisle Public Schools, Second Grade
I am as powerful as God
I tear down anything in my path
I am stronger than steel and very fast,
though in the center of everything is still
But as a hurricane I can also form
tornadoes and tsunamis
After the journey, I die down till
I disappear
---
I am a soccer ball
By Amar Ruthen, Carlisle Public Schools, Second Grade
Ouch!
Why do people keep kicking me?
I'm not doing anything
wrong but they
only kick at me.
Where is this place?
It's icky and loud.
Everybody is shouting.
Goal!
I really don't know what it means.
Help!
A giant is picking me-
Oof!
Ow!
Another giant is-
that's better.
A good place to rest.
Owww!
I don't know but
I hate this place!
As soon as-ouch!
it's over I'm-ow!
going to get-ouch!
out of here.
Screeeech!
Game over!
Finally!
Finally!
Finally I can rest.
---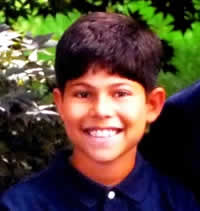 Reflection
By Neil Ruthen, Carlisle Public Schools, Seventh Grade
Through a barrier an entire world awaits,
one untouched but changed by man,
a world merely watching
and imitating the events of a fragment of reality,
a portion of our world mirrored forever in glass
remaining a mirror of our past,
yet changing with the future
with a memory far greater than any physical being,
memories of mountains growing, organisms evolving, and the earth shifting,
reflections of when the west was wild, when nature lead our life,
when our ancestors made technology that would change the world,
only distorted by drops of rain,
the flow of water expanding its view,
its long strand of history,
its tiny ever-changing universe,
a universe that is not alive yet copies the living.
---
The Forgotten Flag
By Neil Ruthen, Carlisle Public Schools, Seventh Grade
Fifty stars, thirteen stripes
torn by wind, worn by rain
frayed and forgotten,
left in isolation,
limply hanging ashamed,
patches sewn roughly into its old fabric
in an attempt to keep it flying
merely weighs the flag down closer,
closer to the ground,
a rip
tearing down the middle
separating the stars from the stripes
holding together by a thread,
a thread of hope, an attempt to cope
with the dreary present,
stitches of hope fusing back the cloth together,
an image for a brighter future.
---
Nature (Glacier National Park)
By Neil Ruthen, Carlisle Public Schools, Seventh Grade
The pine trees embrace the trail in front of me
I wander away from the group
letting the sights,sounds, and smells of nature engulf me in a tranquil wonder
taking in the cool, clean, fresh air
refreshing and rejuvenating my body,
wildlife peeks out at me with curiosity in its large eyes
I find myself,
staring back into those large, dark, eyes
as if I shared a special connection with them,
then like a movie the scene opens up
revealing a court of majestic mountains with snow-capped crowns,
and at their base tiny springs pour into a crystal clear lake reflecting the cloudless sapphire sky,
in this peaceful portion of the earth,
the animals, the mountains, the trees, the water, and the sky,
shared their prominent love of nature
and taught it to me.