Careers after College: Portrait of a Radio Host
By Lydia Liebman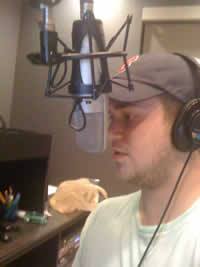 MattMorrell DJs at WGBH in Boston
In a dwindling media field, Matt Morrell keeps the jazz radio tradition alive. "When I was in high school thinking about what I would want to do for the rest of my life, presenting jazz on the radio sounded like a dream job," says Morrell. Thanks to hard work and determination, he is living his dream.
Morrell is a jazz radio host at the legendary WGBH radio station in Boston, Mass. He graduated from Emerson College in Boston with a degree in Radio/Audio Communication in 2004. He landed a position at Emerson's WERS, one of the highest-rated college radio stations in the country, as host of the program "Jazz Oasis."
"The experience in the field not only made me a better DJ," Morrell explains, "but by working in radio for years, I was able to network automatically." He goes on to describe his time at WERS as lively and exciting — he has interviewed jazz stars such as Ron Carter, Roy Hargrove, Dave Holland and Branford Marsalis.
When "Jazz Oasis" came to an abrupt end the year of his graduation, he was fortunate to land a job at WGBH. He credits Simon Rentner at WBGO, a contact made in his Emerson days, for helping him to secure his current position on air.
Working in radio can provide a decent living to professional DJs. The average salary of a full-time host is around $40 an hour. In Matt's case, his experience as a radio professional has brought him an array of unique experiences. Through his involvement at WGBH, he has been given the opportunity to attend The Newport Jazz Festival annually, feature Hiromi's first live performance on American radio, and become friendly with jazz musicians such as Bill Summers, who is best known for his percussion work on Herbie Hancock's "Headhunters." His work on WERS and WGBH has also brought him to other jobs in booking agencies and at Scullers' Jazz Club in Boston.
Thinking of a career in radio? Not so fast, says Morrell. "Jazz radio is a pretty specific career and I would recommend focusing on a field that is growing, not dwindling," he advises. "Radio, and the music business as a whole, is also a completely different monster today than when I started college in 2000."
Like any career in the music or media field, radio is a tough business and should only be pursued if you are "extremely passionate about it. If you are passionate about a tiny segment of radio, like jazz radio, just know that the opportunities can be very limited."
Morrell explains further the bouts of doubt he faced when he first graduated from Emerson. "I remember researching jobs in jazz radio online and finding almost nothing." This is why Matt suggests broadening your horizons upon graduating from college and keeping your options open. "My goal going into college was to have a career in jazz radio. I have since edited that to having a career in jazz," he explains.
While the openings for jazz radio hosts may be few, Matt urges radio students not to be discouraged: "If you know you want to be involved in a small segment of radio — whether it be jazz, 20th century classical… know that the road may be tough but the opportunities are out there. It may just take a little extra work."
In Matt's case, that little extra work paid off. "I'm doing what I love. Plus, I've had experiences that I never would have had without this job," he concludes. His final advice to those looking to pursue a career in radio? "Utilize your college years and network. My time at WERS set me up for the rest of my career. Keep your options open and never say no. All it takes is one foot in the door." #