EXCLUSIVE: Education Update On Location in Qatar for the 2011 WISE Conference
Winner Announced for Education's Newest Prize in Qatar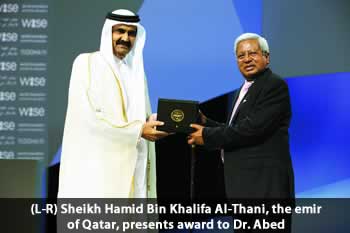 REPORTING FROM DOHA, QATAR
Education, as a discipline worthy of a prestigious award akin to the Nobel Prize, has finally been recognized with the announcement on Nov. 1 of the first recipient of the WISE Prize, an honor awarded for transformative work in education. The setting was the opening session of the World Innovation Summit for Education (WISE) in the brand-new conference center in Doha, Qatar. On a stage set with creatively lit graphics, heralded by dramatic music, the first WISE Prize laureate, Dr. Fazle Hazan Abed of Bangladesh, received a specially designed gold medal and an award of $500,000 in recognition of his 40-year career dedicated to alleviating poverty through education from the Emir of this small Arab emirate.
In his acceptance speech, Dr. Abed said, "I am guided by an ideal of a world free from all forms of exploitation and discrimination. Education is the answer to this quest."
Abed founded BRAC, formerly known as Bangladesh Rural Advancement Committee, in 1972 to address the humanitarian crisis, which followed the country's struggle for independence from Pakistan. Over the next four decades, he built the world's largest and most efficient non-government organization with 120,000 workers, based on the principle of empowering people to grow as individuals, to manage the welfare of their families and to contribute to their societies. Its learning and teaching activities now reach almost 140 million people in 10 Asian, African, and Central American countries. Under Abed's guidance they have acquired the tools to set up their own micro-businesses, become health workers, or teach generations of children. The influence of BRAC has spread throughout the world — particularly to children and young people who are not reached by traditional educational systems.
Following an international call for nominations, a committee of 11 experts made a preliminary assessment and then a high-level jury of five eminent individuals, chaired by Dr. Abdulla bin Ali Al-Thani, Chairman of WISE, Qatar Foundation, made the final decision.
Professor Jeffrey Sachs, Director of the Earth Institute of Columbia University, was one of the final jury members. He has known Dr. Abed for many years. Bangladesh was once called "the basket-case country," by none other than Henry Kissenger in the 1970s. The idea was that this country is hopeless. But Dr. Abed did not think it was hopeless. He left London and a lucrative corporate job right after their war for independence and started up this non-governmental organization, BRAC, and it's had an amazing effect throughout Bangladesh, which nobody calls a basket case anymore.
People see it as a country that is achieving development, where women have gained empowerment through micro-finance, where children have gained literacy, and where the floods, which are common in that part of the world, no longer kill the way they used to. All of this is due to the use of knowledge that can be attributed to efforts of Dr. Abed. #