Occupy Wall Street: Voices of the Students
By Elise Grace & Dr. Pola Rosen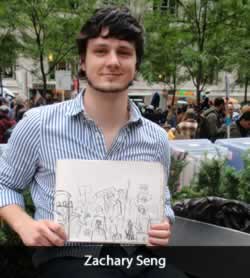 Occupy Wall Street's protesters have been unstoppable in voicing their opinions for a little over a month now. Most of them have been living in Zuccotti Park in downtown Manhattan, just steps from Wall Street. Education Update paid a personal visit to interview students and recent college graduates to get their perspectives and personal stories. Here are their voices.
Hope Dickens graduated from the University of North Texas with a bachelor's degree in photography and moved to Chicago to start her job search two years ago. She applied for over 150 jobs with not one call back. She ended her search with a bartending job that barely paid the bills for the 18 months that she lived in Chicago. She now has a job at the Judd Foundation in Marfa, Texas, yet is staying in New York for another week to speak up for the people that are in the desperate state she was in not so long ago.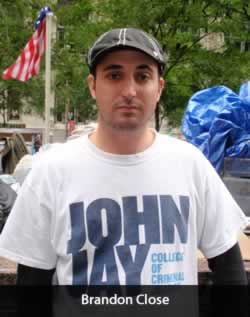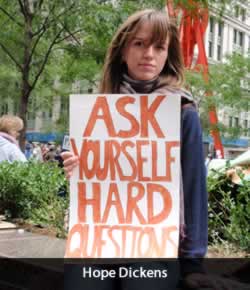 Brandon Close holds a bachelor's degree in business administration and public policy from Pennsylvania College of Technology and is now a first-year graduate student at New York's John Jay College. He needs a job but can't even get one at McDonald's because they claim he is over-qualified. The best job he could land was 250 hours in annual work at John Jay to pay off some of his loans. Close would love a job in research but would take anything. He lives in modest housing in Bedford-Stuyvesant, Brooklyn, and has filed 100 applications that haven't yielded any results. He is not optimistic at his prospects.
Zachary Seng was sitting on a wall in the midst of all the protestors, sketching. He came to lend his support from Lehigh Carbon Community College, where he is in his third year. His aspiration is to be an artist but he is also taking business courses with the astute observation that art alone is not enough. "You have to be able to market your work," he said.
Suddenly, the Columbia University Marching Band appeared, singing and playing through the crowds with a brisk step, their voices and instruments reverberating throughout the crowd of hundreds that were there. Clearly, they were making a statement that the ivy students are supporting the OWS participants (see the video above).
These students represent the thousands around our nation who deserve a chance to be part of the workforce. Occupy Wall Street protesters are people with real problems that deserve to be heard. #