Hong Kong – an international city in Asia
Hong Kong is a place where East meets West. People from different parts of the world come to Hong Kong for education, business, enjoyment, and for exposure to the blend of Chinese and Western cultures. Hong Kong provides an attractive learning environment for preparing students to meet challenges in a globalized world.
The English environment and English-speaking tertiary institutions facilitate overseas students to study here. The cosmopolitan nature of campus life is nurturing the inter-cultural competence students require to be future world citizens. The rich Chinese language and cultural environment prepare students who are interested in developing their career in Asia, particularly in the Greater China region.
In Hong Kong, we welcome overseas students to study, to conduct academic research, and to take part in educational exchange activities.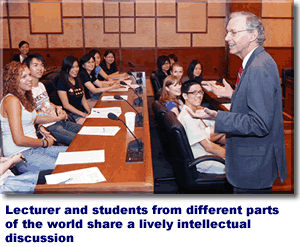 The New Academic Structure
In September 2009, Hong Kong started the implementation of the New Academic Structure (NAS), which marked the beginning of a new era in education. The NAS facilitates the development of the human resources necessary for sustaining the position of Hong Kong as an international city, amidst worldwide changes brought by globalization, economic restructuring, and rapid development in Mainland China. The first cohort will complete their senior secondary education in 2012.
Main Features of the NAS
Comprises three-year junior secondary, three-year senior secondary, and four-year undergraduate education.


Offers a broad and balanced secondary school curriculum (i.e. no more streaming of Arts, Science or Business subjects); emphasizes generic skills like critical thinking, creativity and communication, and learning to learn; caters to students with diverse interests, aptitudes and needs by offering more choices.


Students are required to study four core subjects and choose two to three electives.



Four core subjects – Chinese, English, Mathematics, and Liberal Studies*



Elective subjects that range from traditional subjects like Sciences, History, and Geography, to Applied Learning courses and other foreign languages courses like French, Spanish and Japanese

* The Liberal Studies aims to broaden students' knowledge base, enhance their social and national awareness and global outlook, and develop their multi-perspective and critical thinking skills through studies of a wide range of issues.

Other Learning Experiences (OLE) and Student Learning Profile (SLP) – both within and outside of the classroom, such as moral and civic education, community services, career-related experiences, aesthetic development and physical development – form an essential part of the new senior secondary curriculum. Students will be encouraged to develop an SLP on their OLE, awards/achievements gained outside of school, and self reflections for reference of admission to post-secondary and university education, as well as for employers.
Examination and Assessment under the NAS
At the end of the sixth year of the secondary curriculum, students will sit for one single public examination in order to obtain the Hong Kong Diploma of Secondary Education (HKDSE).


Standards-referenced Reporting will be adopted for the HKDSE examination for reporting a student's overall performance. Levels 1 to 5 will replace the existing Grades A to F. Each level will be accompanied by descriptors that depict the performance of a student at a given level. Results of candidates indicate the standards achieved in terms of knowledge and skills, regardless of the performance of other candidates taking the same examination.


The new examination articulates to multiple pathways in local post-secondary and higher education institutions.


It has gained positive international recognition. The National Recognition Information Centre (NARIC) and the Universities and Colleges Admissions Service (UCAS) have conducted benchmarking studies on the recognition of the HKDSE examination and its articulation to overseas universities. The NARIC study shows that the HKDSE compares favorably with alternative qualifications in Australia, the United Kingdom, and the United States. The UCAS benchmarking studies enable comparisons of the HKDSE Examination with awards in the United Kingdom and other regions for university admission purpose through a tariff point system. The Australian Government has also recognized the HKDSE as equivalent to the Australian Senior Secondary Certificate of Education. International recognition of HKDSE, together with students' SLP, will serve as a reference in student admission for overseas universities.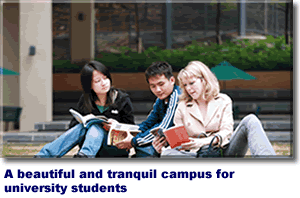 Hong Kong as a Regional Education Hub
Hong Kong aspires to be a regional education hub to nurture talents for the region.


Hong Kong has many world-class institutions. Of the 12 degree-awarding institutions in Hong Kong: three were ranked within the top 50 in 2009 by the Times Higher Education Supplement: The University of Hong Kong (24), The Hong Kong University of Science and Technology (35), The Chinese University of Hong Kong (46); and another two within the top 200: The City University of Hong Kong (124) and The Hong Kong Polytechnic University (195). We adopt international standards in curriculum design and quality assurance.


Hong Kong universities host the world's best executive business management programs. The EMBA program offered by The Hong Kong University of Science and Technology, in collaboration with Kellogg School of Management of the Northwestern University, was ranked 1st by the Financial Times in 2007 and 2009. The MBA programs offered by two universities were ranked 9th (The Hong Kong University of Science and Technology) and 28th (The Chinese University of Hong Kong) by the Financial Times in 2010. Our performance in other fields is equally impressive. For example, the School of Hotel and Tourism Management of The Hong Kong Polytechnic University was ranked 2nd in the world in 2009 among academic institutions in hospitality and tourism based on research and scholarship according to the Journal of Hospitality and Tourism Research.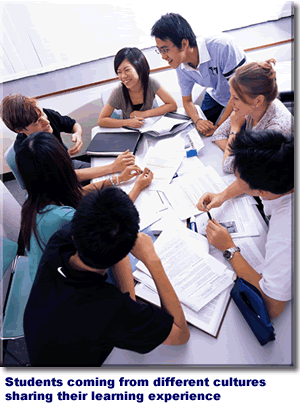 Non-local students in Hong Kong
Hong Kong welcomes international students. Out of around 70,000 university students in Hong Kong, 13%, or 9,300 are non-local students. Tuition fees in Hong Kong's universities range from US$9,000 to US$13,000 per year. To enhance internationalization of our campus –





We have doubled the quotas for non-local students at publicly-funded institutions from 10% to 20% since 2008.


We have set up a scholarship fund with one billion Hong Kong Dollars (about US$128 million) to award government scholarships to outstanding local and non-local students.


We have relaxed employment restrictions to allow non-local students to take part-time jobs during their studies. Non-local students may also stay in Hong Kong for 12 months, without any restrictions, after graduation.



A number of universities in Hong Kong offer student exchange programs with major universities around the world. In addition, many overseas students pursue short-term studies in Hong Kong.
Research opportunities in Hong Kong
In 2009, we established a Research Endowment Fund with 18 billion Hong Kong dollars (about US$2.3 billion) and shall create, in phases, 800 additional publicly-funded research postgraduate places.


We launched the Hong Kong PhD Fellowship Scheme in 2009. This scheme aims to attract the best and brightest students from around the world to pursue their PhD programs in Hong Kong's institutions. The scheme provides a monthly stipend, conference attendance, and research-related and travel allowance for the awardees for a period up to three years.
Non-local institutions in Hong Kong
There are over 1,200 courses in Hong Kong offered by institutions outside Hong Kong, leading to the award of a non-local higher academic or professional qualification.


Among them, 62% are from the UK, 22% from Australia, 8% from the US and Canada, 6% from Mainland China and 2% from other countries.
Further internationalization and diversification of Hong Kong's higher education sector
As part of our efforts to support the internationalization and diversification of Hong Kong's higher education sector–



We grant land sites at nominal premium to self-financing non-profit-making post-secondary institutions for the construction of purpose-built premises to offer locally accredited programs. We will invite interested institutions, local and non-local, to express their interest in developing a self-financing higher education institution on a site which can provide over 100,000 square metres in gross floor area and can house 8,000 students with residential facilities.


We have a Start-up Loan Scheme, which provides loans to support self-financing post-secondary institutions to develop new college premises and re-provision existing premises.


We operate the Quality Enhancement Grant Scheme that supports projects/initiatives that can improve students' learning, teaching methods, course quality and career guidance.
Enquiries
For more information about our NAS and our higher education institutions, please visit our website www.edb.gov.hk/334/EN; websites of the individual institutions listed below:
You are also welcome to contact the Education Bureau of the Government of the Hong Kong Special Administrative Region via email at 334@edb.gov.hk
Contributed by:
Education Bureau, Hong Kong Special Administrative Region Government