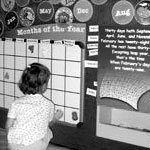 The Children's Museum of Manhattan Celebrates 30 Years of Helping Families
The Children's Museum of Manhattan (CMOM) is celebrating its 30th birthday! For three decades, CMOM has been a center of fun, educational activities, exhibits and programs for families and children of all ages and backgrounds. With a wide-range of offerings in the arts, literature, media and communications, science and nature, CMOM presents a wonderful "first museum" experience for children and families.
The Kloos Family Mystery presented by Court TV: Help solve a "caper" by gathering evidence and using such real crime scene methods as fingerprints, fiber and hair analysis, and footprints.
Travels With Ted and Betsy Lewin: Journey to far off and fascinating places by enjoying the ongoing "Seeing The Story" series that features the original illustrations and stories by this creative couple.
Join a cast of animated characters on an adventure to clean up the environment. Kids will learn how the body uses water, navigate the path of dust particles through a giant nose, investigate careers in science, and make their own environment-saving invention.
Mother Goose Math; Rhyme and Arithmetic: Well-loved verses will come to life in Mother Goose Math; Rhyme and Arithmetic, where children will count, match, and sort the colorful objects and characters from familiar Mother Goose rhymes.
Monkey King: CMOM will celebrate the Chinese Year of the Monkey (2004) with its new exhibition, Monkey King. The landmark exhibition will bring Chinese cultural awareness to the forefront in January 2004. The history and culture of China—ancient and modern—will come alive for children and families as kids discover the astonishing superpowers and humorous foibles of Monkey King, hero of the ancient Chinese fairytale Journey to the West (Xiyouji). This beloved storybook comes alive and will resonate with museum visitors of all ages.
Oh, the Places You'll Go!: The second installment of Dr. Seuss' colorful and off-kilter world will take children on a personal identity adventure through Seuss' classic story Oh, the Places You'll Go! Children will discover for themselves the importance of following one's dreams, overcoming fears, and valuing one's unique self.
The museum's long-standing commitment to arts education and families in New York—especially families in need—is evident by its diverse community outreach and education offerings. CMOM is committed to changing lives through the following programs: The Family Access Membership Program works with 50 community based organizations to provide museum membership to low-income families.
The Shelter Program brings a group of homeless mothers and their children to the Museum for an intimate, ten-week early childhood education program featuring art, music and literacy activities.
The Memorial Sloan Kettering Arts Outreach Program helps children living with cancer and their families explore, heal and learn through art.#
CMOM is a private, not-for-profit institution located in the Tisch Building at 212 West 83rd Street on Manhattan's kid-friendly Upper West Side.

Education Update, Inc., P.O. Box 1588, New York, NY 10159.
Tel: (212) 477-5600. Fax: (212) 477-5893. Email: ednews1@aol.com.
All material is copyrighted and may not be printed without express consent of the publisher. © 2003.
---