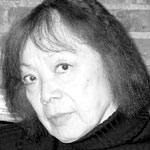 30 Years of Memorable Music
Toshiko Akiyoshi & All That Jazz
by Joan Baum, Ph.D.
Remember the old joke—how do you get to Carnegie Hall? Practice, practice, practice. Well, Toshiko Akiyoshi's been there and now, after 30 years as a composer and conductor of the Toshiko Akiyoshi Jazz Orchestra, she will be disbanding her group in order to devote herself to practice, practice, practice. This superbly accomplished musician wants to spend her remaining years perfecting her piano technique, but not before showing off her considerable composing and conducting talents one more time. On October 17, with her award-winning tenor saxophonist and flutist husband Lew Tabackin as principal soloist, she will be giving a Farewell Concert at Carnegie Hall. For those who know about this remarkable diminutive powerhouse, the occasion will mark the American premier of Hiroshima—Rising from the Abyss (2001), a heartfelt programmatic work that memorializes but moves beyond that fateful day in August 1945. Hiroshima marks another 30 year anniversary, for it was in 1974 when Akiyoshi wrote an earlier hope-out-of-ashes piece, Kogun, inspired by the poignant story of the Japanese solider who hid out in the Philippine jungle for 15 years, not believing that the war was over. The record sold an unprecedented 30,000 copies in Japan, unheard of for a new work—and for a relatively unknown artist, a woman, yet.
For those who don't know Akiyoshi's music—or Tabackin's—the upcoming Carnegie Hall concert will show what all the celebration's been about over the years. Overcoming cultural ste-reotypes and racial prejudices hardly approximates what it must have been like for this extraordinary Japanese woman from Manchuria when in 1945, at the age of 16, she calmly strode into a dance hall for GIs in Japan that had advertised for someone to play the piano. A lover of piano since the age of 7, when she studied classical, this now legendary name in jazz composition fell in love with the American musical idiom that for her resonated as a unique expression of American Black culture. Drumming is particularly important to her, but listeners should also stay tuned for Japanese folk song influences. The move to the states was inevitable, especially after she won a full scholarship to the Berklee College of Music in Boston
Although Akiyoshi started to make a name for herself in the `50s, it was only in 1983, 10 years after forming a big band in L.A. with Tabackin, that her reputation really soared. Since then, she's garnered praise from the best, including Bud Powell, Duke Ellington, and Oscar Peterson, who called her "the best female jazz pianist" he had ever heard. Although she works in small groups, she prefers orchestra because of the greater "color" she can achieve. What's distinctive? The seriousness of her take on jazz—"very sophisticated and personal music" that demands patience. Alas, too many young people today are in a hurry, she says. Jazz is an incredibly emotional and intellectual experience, both for the performer and the listener. If you are a classical pianist, she explains, the notes you play are always the same. When you play jazz, however, and improvise, you must not only be technically proficient but feel open to an intimacy that seduces you into risk taking—different notes, rhythms, pacing, riffs for whoever's sitting in. You may never play the piece the same way again.
What is most amazing about Toshiko Akiyoshi is her modesty about her craft and her devotion to her husband. Despite rave reviews, she says her future is "wanting to play better," and she notes that Tabackin—her best listener and most supportive colleague—has been rightly called the "most underrated saxophone player" ever, whose expertise on flute "is as good as it gets." For Toshiko Akiyoshi and Lew Tabackin music is indeed the food of love. To which one can only say, with Duke Orsino in Twelfth Night, "play on." They will.#
30th Anniversary & Farewell Concert: The Toshiko Akiyoshi Jazz 0rchestra, Friday, October 17, 8 p.m., Carnegie Hall. Call 212-247-7800 or check www.carnegiehall.org.

Education Update, Inc., P.O. Box 1588, New York, NY 10159.
Tel: (212) 477-5600. Fax: (212) 477-5893. Email: ednews1@aol.com.
All material is copyrighted and may not be printed without express consent of the publisher. © 2003.
---