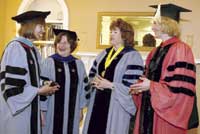 Judith Miller Delivers Barnard College Commencement Address
Judith Miller, the Pulitzer Prize-winning correspondent of The New York Times and bestselling author of Germs: Biological Weapons and America's Secret War, spoke at the Barnard College commencement. Joining her were two other accomplished women, cancer researcher Susan Band Horwitz and philosopher-ethicist Martha Nussbaum, who received the Barnard Medal of Distinction at the ceremony.
Miller, a 1969 Barnard alumna, spoke directly from assignment covering the war in Iraq and its aftermath, including the discovery of what could be a mobile biological weapons lab and the arrest of a senior woman biologist in Iraq's suspected biological warfare program.
Miller, Horwitz and Nussbaum, joined an impressive group who have received the Barnard Medal of Distinction, including Mamphela A. Ramphele and Alice Rivlin (2002), Madeleine K. Albright (1995), Walter Cronkite (1994), Marian Wright Edelman (1985) and Mario M. Cuomo (1983).
Widely respected for her reporting on national security, the Middle East, and terrorism, Miller shared the Pulitzer Prize in 2001 with a team of Times' colleagues for a series of articles on Osama bin Laden and Al Qaeda. The 2002 book, Germs, written with two colleagues, William Broad and Stephen Engelberg, topped the Times' Best Seller list, as did Miller's 1991 book, Saddam Hussein and the Crisis in the Gulf, the first comprehensive account of the Gulf War and biography of the man behind it. Miller wrote a second book on the Middle East, God Has Ninety Nine Names, which explores the spread of Islamic extremism. She joined The Times in 1977, and has covered government, politics, and foreign affairs in Washington and in the Middle East. In 1983, she became the first woman to be chief of The Times' bureau in Cairo, and moved three years later to Paris to cover Europe and North Africa. She currently is based in New York, where she lives with her husband, the publisher and writer Jason Epstein.
Horwitz is a pioneering cancer researcher whose investigations identified Taxol, a drug isolated from the yew plant, as a prototype of a new class of anti-tumor drugs. She is president of the American Association for Cancer Research and a faculty member at the Albert Einstein College of Medicine in New York City, where she studies natural products as a source of new drugs for cancer treatment. Her groundbreaking investigations into the use of Taxol led to its development by the National Cancer Institute as an important anti-tumor drug in the treatment of ovarian, breast and lung cancers. Her accomplishment has been widely recognized. In 1992, she received the Cain Memorial Award from the American Association for Cancer Research, the international professional organization of 20,000 cancer researchers.
Nussbaum has been called one of the most important philosophers of our time and has been praised for changing the way people think about ethics and social justice in contemporary liberal democracies. Nussbaum, the Ernst Freund Professor of Law and Ethics at the University of Chicago, is known for her efforts to connect Hellenistic ethics and Greek mythology to modern life, and for her writings on contemporary moral and political philosophy and feminism, Nussbaum has written 10 books on the law, ethics, social justice and liberalism. She first attracted notice in 1987 with an attack on Allan Bloom's The Closing of the American Mind. In her award-winning 1997 book, Cultivating Humanity: A Classical Defense of Radical Reform in Higher Education, she championed changes in the academy, including the study of ethnicity, race, non-Western cultures, gender and sexuality - from the perspective of classical scholarship. She attracted attention again in 1999 for her criticism of radical feminist philosopher Judith Butler. Her most recent book is Women and Human Development: The Capabilities Approach (2000), in which she suggests how governments and international agencies can alleviate poverty, particularly as it affects women, in the developing world.#

Education Update, Inc., P.O. Box 20005, New York, NY 10001.
Tel: (212) 481-5519. Fax: (212) 481-3919.Email: ednews1@aol.com.
All material is copyrighted and may not be printed without express consent of the publisher. © 2003.
---