Wendy Hilliard Brings Gymnastics to Harlem
By Tom Kertes

The first African-American to make the U.S. Rhythmic Gymnastics National Team–she later became its captain and coach–Wendy Hilliard also heads her own foundation, a successful non-profit group devoted to bringing gymnastics to children in disadvantaged communities. She's been an active and important athlete-representative on the United States Olympic Committee. Hilliard is also a network sports broadcaster–she's done two Olympics in the booth–and a prominent member of the Board of Directors of NYC 2012, the organization responsible for attempting the near-impossible feat of bringing the 2012 Summer Olympics to New York.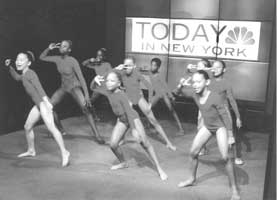 In the midst of all this, she somehow still had the patience to personally direct 380 chattering 6-12 year-old Summer Gymnastics Program participants in a featured dance number–set to music from the first "Austin Powers" film–at the 7th Annual Gymnastics Gala at the Harlem PAL.
"I think bringing gymnastics to kids who otherwise would never be anywhere near it is extremely important," says Hilliard. "The impact of this sport goes way beyond athletics: this is a highly structured activity that creates commitment and teaches discipline. It'll help you in all walks of life." Hilliard's' classes are not "merely" gymnastics as we know it from the Olympics; they include rhythmic gymnastics–a sport where athletes use equipment such as a hoop or a ball in their difficult routines–trampoline art, and dance as well. "They all start with the same basics," says Hilliard. "And, ultimately, they all teach the same things."
The kids certainly had a ball. Their fun was only exceeded by the pride of the parents who attended the gala in record numbers, helped in innumerable ways, and cheered at deafening levels. "I'm from Los Angeles," parent-helper Debra Brown said, pointing to her 12-year old daughter, LeAna. "We heard about this program from the Dance Theater of Harlem in L.A.–they partner with Ms. Hilliard. Yes, it is a sacrifice to spend six weeks in New York. But this is what LeAna wants to do–so it's worth it."
The goal of the partnership between the Wendy Hilliard Foundation and the Dance Theater of Harlem is to have a diverse team of young women who were trained in Harlem compete in the 2012 Olympics. Which, if Ms. Hilliard has anything to do with it, will be held in the Big Apple.
"We are doing our best to convince the world," she says. "We're bringing major athletic events–the National Triathlon Championships, the U.S Weightlifting Championships, the Wrestling Worlds–to New York City to prove to the different federations that we have the facilities, the transportation, the infrastructure, and the interest. We have tough competition, both from inside the U.S. [Washington, San Francisco, and Houston also want the Games] and from around the world [Moscow, London, etc.] But I feel we have a great chance at succeeding. For one thing, those foreign cities already held Olympic Games. And, among the American cities, I feel that New York has an edge both because of its innate uniqueness, and due to the horrible events of 9/11," says Hilliard.
"It would be historic to hold an Olympic Games here. And the Olympics has a great sense of history."#

Education Update, Inc., P.O. Box 20005, New York, NY 10001.
Tel: (212) 481-5519. Fax: (212) 481-3919.Email: ednews1@aol.com.
All material is copyrighted and may not be printed without express consent of the publisher. © 2002.
---